Maximum performance with your own JTL shop 4
The server for your JTL shop 4 ensures a powerful hosting experience with maximum success for you. We will be happy to give you SSH access and support you wherever we can.
Our modern servers run PHP 7.3 and MySQL 5.7, and we also offer SSL and HTTP2, which ensures the maximum performance of our servers in your web hosting package. Of course, we also take care of daily backups, which we store securely for you for a whole month. This allows you to load and use the backups from the server at any time.
Enterprise Server
Performance class A
Enterprise Server
Performance class A+
Enterprise Server
Performance class A+++
All prices incl. VAT, 12 months minimum term
Alternative shop system with a wide range of options
As a small and efficient shop system, JTL is now used quite frequently. JTL stands out first and foremost due to its impressive complete package as well as its exciting pricing policy. Of course, the functionality of the JTL shop system is also in the foreground. Therefore, countless sales solutions for your projects can be efficiently implemented with this offer.
With a JTL online shop, you can take your online sales to a new level. With the help of multi-channel sales, you have the possibility to work through a multitude of sales channels in parallel. In addition, you receive maximum support for any tasks that arise and in almost all branches of business. You have all options with a JTL online shop, be it for the maintenance of the product range, purchasing or sales.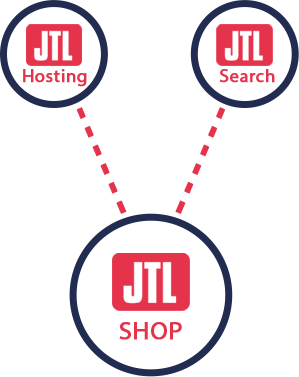 In order to benefit from these versatile possibilities of JTL, you neither need knowledge in the area of programming, nor do you need to have years of experience in eCommerce. Therefore, JTL as a shop system is particularly suitable for start-up and small businesses. A large number of start-ups have already been able to achieve great success with a JTL online shop.
If you are also enthusiastic about a JTL shop system, then our JTL web hosting offer is the ideal solution for you. Our high-performance servers and hard drives provide all the technical prerequisites for your own JTL online shop. In addition, our hosting package guarantees security and offers you maximum support in the event of any difficulties or questions.
A
64-Bit Enterprise Server min. 16 CPU Threads Highspeed I/O
A+
64-Bit Enterprise Server min. 24 CPU Threads Highspeed I/O
A+++
64-Bit Enterprise Server min. 24 CPU Threads Highspeed I/O GOLIATH Serverklasse

Let's Encrypt free of charge

Let's Encrypt free of charge

Let's Encrypt free of charge
E-mail accounts 5 GB each
Professional Web and IT Solutions
We are always available for you with our 24/7 support
Our support puts you and your needs at the centre of attention.
Our well-coordinated team is made up of experienced developers who will answer your questions and resolve any complications you may have.
support@novinet.ch
Tel: +41 41 5111 888
You benefit from up to one month of backups of your important data through our nightly backups.
As part of the update package, you will receive personal support from our technical specialists in updating your website.
The security of your data is our top priority. That's why we use the most up-to-date security and encryption systems.
In addition, our fully automated security algorithms and firewall provide extra protection.